Smith McDonald Corporation seamlessly links two traditional desk accessory fabricators, Smith Metal Arts and McDonald Products. Handcrafted in the USA since the late 1800s, our desk accessories, including desk pads and wastebaskets, represent some of the most exquisite collections available. Each piece is fabricated from fine metals such as stainless steel, aluminum, brass, and bronze–all in a choice of finishes–as well as luxurious full-grain leather.
Our Heritage
Smith McDonald Corporation's history begins in 1889 when Smith Metal Arts was known as Heinz Art Metal Co. The company introduced desk accessory products to the market. After the founder's death, the top salesman for the company, Fred C. Smith, purchased the company in 1919. He changed the company's name to Smith Metal Arts, and promoted metal spinning as well as metal polishing and buffing to build the reputation of the desk accessories as the finest around, made from precious and semi-precious metals. Smith also brought Peter Muller-Munk on board, a well-known jewelry designer. This allowed Smith Metal Arts to sell its high-end products through leading jewelry stores.
Over the years, Smith Metal Arts teamed up with different architectures and designers to introduce a handful of product lines. Some, like the 202 desk accessory line, are discontinued but are on permanent display at the Museum of Modern Art in New York City. Others, like the Radius One, led to spin-offs in the 1980s, like the Radius Two and Radius Two Melamine lines.
In the summer of 1986, Smith Metal Arts acquired McDonald Products Corporation, creating Smith McDonald Corporation. The merger put to rest a bitter rivalry between the two companies and gave the company market share of both the high-end office industry as well as the mid-range market. Then, in 2007, the current owner purchased the company. Today, Smith McDonald Corporation remains true to its origins, creating high-quality, handcrafted office accessories.
Our Promise
Since our inception in the late 1800s, our promise to our customers has remained unwavering. When you work with Smith McDonald Corporation, you are guaranteed quality workmanship and unsurpassable customer service.
Quality Workmanship
Smith McDonald Corporation has always been and will always be committed to quality and craftsmanship. We only use high quality, semi-precious metals including aluminum, brass, bronze, and stainless steel, and premium leather. This allows our products to be not only aesthetically pleasing but durable and able to be used and enjoyed for many years to come.
Unsurpassable Customer Service
The customer service team at Smith McDonald Corporation focuses above all on customer satisfaction. Prompt, efficient, and friendly responses are standard, and any situation that requires resolution is handled with the utmost professionalism and care.
Made in the USA
Smith McDonald Corporation works hard to source as many raw materials from manufacturers in the United States as possible.
Our Expert Staff
At SmithMcDonald, we believe having a skilled and experienced staff is essential to deliver excellent customer service to our customers. We are proud to say that the average industry experience of our employees is 20 years.
With this level of expertise, our staff is able to understand the intricacies of the office accessories industry and have kept up with industry trends for both Smith Metal Arts and McDonald Products. This allows us to offer our customers the best knowledge and recommendations for their individual needs.
We believe that building long-term relationships with our customers both new and existing is the core of our excellent customer service. We're proud of our team and all the work they do. We are confident that all our customers will benefit from their knowledge and commitment to excellence. 
Our Collections
We have several collections to choose from, each with a distinct style available in a veriety of finishes. Our designs range from art deco to traditional to contemporary and will enhance any office setting, from the front desk to the boardroom. Within each collection, we offer essentials such as desk pads, letter trays, pen bases, pencil cups, memo trays, business card holders, clip cups, library sets and bookends—everything expected in a nicely-appointed office space—right down to the engraved name plate. We invite you to take a look at some of our collections.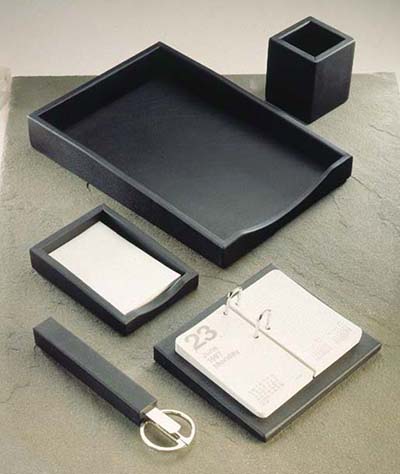 Executive Leather
Clean, crisp, rectilinear lines are the highlight of the Executive Leather Collection. In this case, exceptional detail and expert craftmanship are combined with the tactile and visual appeal of genuine leather to produce the Executive Leather Collection of desk accessories. Handcrafted of the highest quality full grain upholstery leather, these hand-wrapped accessories are available in the leather colors shown herein, and work particularly well in a traditional office environment.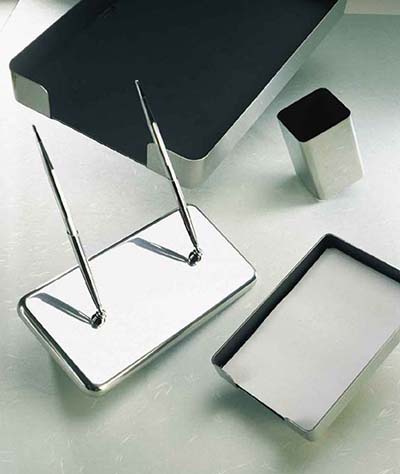 Eclipse Metal
The Eclipse Metal Collection is comprised of a wide range of accessories, each of which features subtly radiused corner details. Its crisp architectural details lend themselves particularly well to contemporary office settings.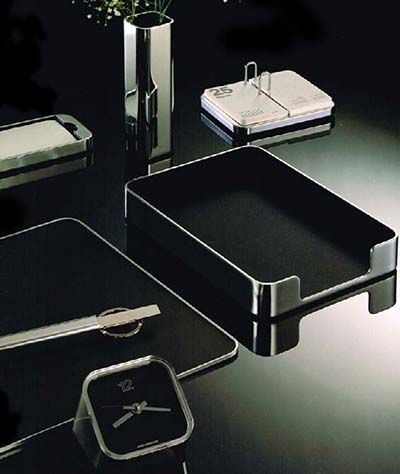 Radius One Metal
The award-winning Radius One Metal Collection is a classic collection with universal appeal. Its unique curvilinear expression has been highly recognized as a handsome statement of contemporary design, rendering it the ideal accompaniment to today's contemporary office setting. Beautifully sculpted in fine metals, the careful attention to detail is a hallmark of the craftsmen who interpret this original classic.
Desk Pads
Desk pads are our specialty. They are available in linoleum, vinyl and leather. We offer standard shapes and sizes, but are happy to make custom sizes, too. We make pads for desks, individual seating around a conference table, or to cover an entire conference table for complete protection. Personalization, such as a company logo, can be embossed on most desk pads, conference pads and coasters.
Custom Products
We make the majority of our products to order, so customizations and changes to our standard products are easily and regularly dealt with.
For a small surcharge, company logos or personal initials can be foil, blind, or heat embossed onto the majority of our standard leathers.
Please contact us for your next custom order.